All product information is provided by the supplier. The National Board of Social Services is not responsible for either contents, origin, flaws and deficiencies, or any kind of damage that may occur from the use of the information. The National Board of Social Services has no authority to endorse products and does not assess the quality of the products.
Hide this message
.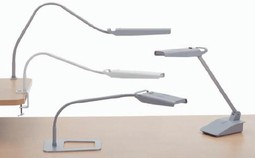 Task light with flexible joints, allowing for optimal positioning of the light. The intense, clear light is supplied by an 18W fluorescent tube, driven by a flicker-free HF ballast. Ideal for users who need an intense and clear light to work at.
Classification
18 06 06 07 - Desk lamps
The product series contains 1 product.
Product 1 of 1


INTENS 3 -18 watt

Arm length: 920 mm

Available in black, silver and white

Light-Colour: 4000K

Registration date

11-10-2007