VELA Samba 200EF(Erstattet af VELA Jive med vare nr 87010 og 87020)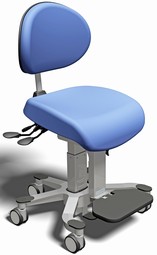 This product series and all belonging products have been discontinued since 29-06-2012
VELA Samba 200EF is a brand new chair from VELA in a fantastic new design.
The chair has a unique height adjustment using the feet, which makes it very useful for eg. surgeons or dentists who will have a perfect sitting position, without being interrupted in their work while adjusting the height. This saves valuable time. The chair has brakes
Classification
18 09 03 - 12
Activity chairs with electrical height adjustment
The product series includes 1 discontinued product.
Change
Settings
to display this product.