Modulfix Height adjustable kitchen table modules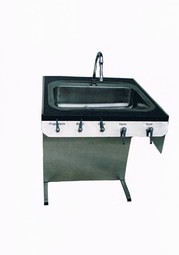 Kitchen Sink Module which can be built into existing kitchen and create better
opportunities for freedom
Modules from 60-100 cm width
Height adjustable within 20 cm.
Setting table height and use of cold and warm water controlled by front-loaded handles and ordinary water pressure.
Materials: Basic stainless steel -individual choice of countertop
Classification
18 15 06 - 01
Height-adjustable plinths and brackets
Video

Play video
The product series contains 1 product.
Product 1 of 1


Modulfix Height adjustable kitchen table modules

Registration date

27-11-2012