All product information is provided by the supplier. The National Board of Social Services is not responsible for either contents, origin, flaws and deficiencies, or any kind of damage that may occur from the use of the information. The National Board of Social Services has no authority to endorse products and does not assess the quality of the products.
Hide this message
.
Modulfix Height adjustable kitchen table modules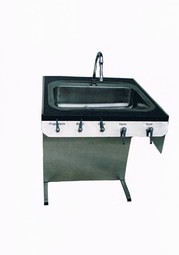 Kitchen Sink Module which can be built into existing kitchen and create better
opportunities for freedom
Modules from 60-100 cm width
Height adjustable within 20 cm.
Setting table height and use of cold and warm water controlled by front-loaded handles and ordinary water pressure.
Materials: Basic stainless steel -individual choice of countertop



Classification
18 15 06 01 - Height-adjustable plinths and brackets
Video
Play video
The product series contains 1 product.
Product 1 of 1


Modulfix Height adjustable kitchen table modules

Registration date

27-11-2012