TECElux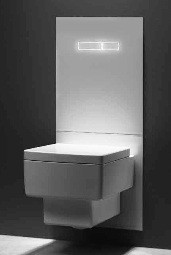 TECElux is a multi-functional toilet unit which, despite its many properties appear beautiful and simple. All the technology and electronics are hidden in the wall and appeals to the user who wants quality and design to match the remaining bathroom interior. TECElux is offered to existing hanging bowls and as a complete solution with a bidet.
Classification
18 15 06 - 01
Height-adjustable plinths and brackets
The product series contains 2 products.
Product 1 of 2


TECElux 200

TECElux 200 is a built-in toilet lifter where all connections to water and power are hidden in the wall. Included glassfront is available with manual flush buttons or touch which gives the user the opportunity to influence the external design. The height of TECElux 200 can be electronically adjusted and can be used by both small and large people.

Registration date

04-04-2013

Test information

EN 12182:2012: Assistive products for persons with disability - General requirements and test methods.
Test lab: Amtmann-ibing-strasse 10, 44805 Boc. Test date: 28-03-2008


Specifications
| | | |
| --- | --- | --- |
| Intended for use in bath rooms | Yes | |
Product 2 of 2


TECElux 400

TECElux 400 is a built-in toilet lifter where all connections to water and power are hidden in the wall. Included glassfront is available with manual flush buttons or touch which gives the user the opportunity to influence the external design. TECElux 400 can be electronically adjusted in height and has built-in air purification.

Registration date

04-04-2013

Test information

EN 12182:2012: Assistive products for persons with disability - General requirements and test methods.
Test lab: Amtmann-ibing-strasse 10, 44805 Boc. Test date: 28-03-2008