All product information is provided by the supplier. The National Board of Social Services is not responsible for either contents, origin, flaws and deficiencies, or any kind of damage that may occur from the use of the information. The National Board of Social Services has no authority to endorse products and does not assess the quality of the products.
Hide this message
.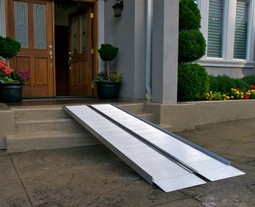 Ultra-strong, single-fold ramp provides the safety and strength required while remaining lightweight and portable. The smooth and quiet action of the live hinge a continuous full length low profile hinge adds strength and stability to the ramp. Ergonomically designed flexible, non-breakable handles offer convenient carrying and a comfortable grip.
Classification
18 30 15 09 - Ramps
The product series contains 1 product.
The product series also includes 3 discontinued products.
Include discontinued products
.
Product 1 of 1


Portable Singlefold Ramp

Registration date

19-06-1998

Specifications
Load, max
272
kg

For both track ramps and ramps please state the allowed load pr. item.

Weight
9.5
kg
Actual length in use, min
114
cm

The minimum length in use of the ramp excluding lips

Actual length in use, max
114
cm

The maximum length in use of the ramp excluding lips

Transportation length
122
cm
Transportation width
40
cm
Foldable
Yes
Length adjustable
NEJ
Internal width
74
cm
External width
76
cm

External width per track

Non-slip surface
Yes
Indoor use
Yes
Outdoor use
Yes
Lip, top
Yes
Lip, bottom
Yes
Carrying handle
Yes
Guardrail height
8
cm