Kalea A4 Primo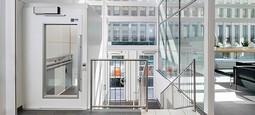 Verticallift A4 is a vertical lift, that can lift up to 6 floors, the Lift is a alternativ to conventunel elevator and much cheaper.
There is a lot of different accessories to the lift, doorautomatik, doorlock, telefone, and so on..
The Verticallift A4 is maid with different platform/cabin sizes.
Classification
18 30 03 - 01
Elevators
The product series contains 1 product.
Product 1 of 1


Kalea A4 Primo

Registration date

08-10-2014

Specifications
| | | |
| --- | --- | --- |
| Length/depth | 163 | cm |
| Lifting height, max | 1300 | cm |
| Load, max | 500 | kg |
| Elevator cage width | 110 | cm |
| Door width | 90 | cm |