All product information is provided by the supplier. The National Board of Social Services is not responsible for either contents, origin, flaws and deficiencies, or any kind of damage that may occur from the use of the information. The National Board of Social Services has no authority to endorse products and does not assess the quality of the products.
Hide this message
.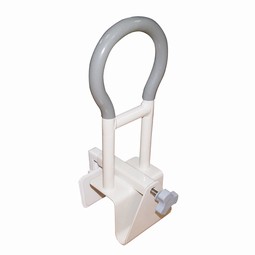 Provides added stability when getting in en out of the bathtub. This safety rails slip easily over the side of the bath en convenient henle heights allow for a seated grip position. Easy to install the waterproof construction comes with non-skid rubber pads to protect the bathtub wall en provide a sure grip.
Classification
18 18 10 02 - Grab rails and hand grips, bathtub
The product series contains 1 product.
Product 1 of 1


Bathtub Handrail

Registration date

07-09-2015

Specifications
| | | |
| --- | --- | --- |
| Load, max | 100 | kg |
| Length | 23 | cm |
| Diameter of grip | 3 | cm |
| Height from tub edge | 25 | cm |