Bathtub Handrail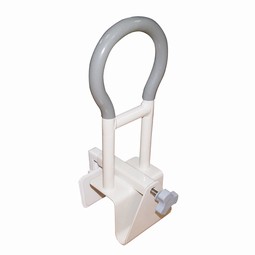 Provides added stability when getting in en out of the bathtub. This safety rails slip easily over the side of the bath en convenient henle heights allow for a seated grip position. Easy to install the waterproof construction comes with non-skid rubber pads to protect the bathtub wall en provide a sure grip.
Classification
18 18 10 - 02
Grab rails and hand grips, bathtub
The product series contains 1 product.
Product 1 of 1


Bathtub Handrail

Registration date

07-09-2015

Specifications
| | | |
| --- | --- | --- |
| Load, max | 100 | kg |
| Length | 23 | cm |
| Diameter of grip | 3 | cm |
| Height from tub edge | 25 | cm |