All product information is provided by the supplier. The National Board of Social Services is not responsible for either contents, origin, flaws and deficiencies, or any kind of damage that may occur from the use of the information. The National Board of Social Services has no authority to endorse products and does not assess the quality of the products.
Hide this message
.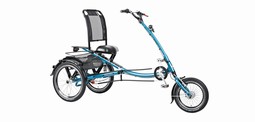 Lean back and enjoy the ride. The Scooter L bicycle is comfortable and easy to use. It is available with 5 or 7 gears. It has a big basket which can contain up to 20 kg
Classification
12 18 06 10 - Tricycles for one cycling person, two rear wheels
The product series contains 1 product.
The product below meets the specified details.
Scooter L
Registration date
05-01-2017
Properties
Intended for children
No

Products for children must comply with the specific demands for safety as stated in certain standards. It is the supplier of the product who has stated that the product is intended for children. The National Board of Social Services holds no responsibility in relation to this assessment.

High-back seat
Yes
Reverse gear
Yes
Fixed gear
Yes
Foldable
No
Power-assist unit
Yes
Battery chargeable separated from the product
Yes
Parking brake
Yes
Differential gear
Yes
Provided with basket
Yes
Measures
User weight, max
150
kg
Inside leg, min
64
cm
Inside leg, max
77
cm
Step through frame
49
cm
Weight
29
kg
Number of gears
5
External width
71
cm
Total length
194
cm
Load in basket, max
20
kg