All product information is provided by the supplier. The National Board of Social Services is not responsible for either contents, origin, flaws and deficiencies, or any kind of damage that may occur from the use of the information. The National Board of Social Services has no authority to endorse products and does not assess the quality of the products.
Hide this message
.
Mini Standy, Children Support Stand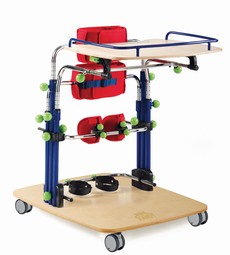 Simple and inexpensive childrens ståstøttestativ from Ormesa. Supplied as standard with foot, knee, hip and body support, as well as tiltable table. Headrest and reduction efforts to support bodys, are accessories.
Is available in 3 sizes.
Classification
05 36 03 01 - Standing frames and supports for standing
The product series contains 3 products.
Product 1 of 3


Mini Standy size 1, Children Support Stand

Registration date

16-04-2018

Specifications
Intended for children
Yes

Products for children must comply with the specific demands for safety as stated in certain standards. It is the supplier of the product who has stated that the product is intended for children. The National Board of Social Services holds no responsibility in relation to this assessment.

Width
56
cm

The maximum width of the standing frame.

User weight, max
35
kg
Product 2 of 3


Mini Standy size 2, Children Support Stand

Registration date

16-04-2018

Specifications
Intended for children
Yes

Products for children must comply with the specific demands for safety as stated in certain standards. It is the supplier of the product who has stated that the product is intended for children. The National Board of Social Services holds no responsibility in relation to this assessment.

Width
60
cm

The maximum width of the standing frame.

User weight, max
45
kg
Product 3 of 3


Mini Standy size 3, Children Support Stand

Registration date

16-04-2018

Specifications
Intended for children
Yes

Products for children must comply with the specific demands for safety as stated in certain standards. It is the supplier of the product who has stated that the product is intended for children. The National Board of Social Services holds no responsibility in relation to this assessment.

Width
65
cm

The maximum width of the standing frame.

User weight, max
55
kg