BUZZ Toilet-badestol m/drivhjul, bariatrisk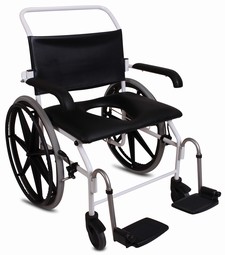 BUZZ-serien består af fem modeller i et rengørings- og betjeningsvenligt design:
BUZZ 1, 2, 3, 5 og 11.
Alle med opklappelige armlæn m. PUR-puder. Komfortabelt sæde. Åben el. lukket sædefront. To stk. 24 drivhjul med håndbremser. To stk. 125 mm bremsehjul. Ekstra bred model til store borgere.
Classification
09 12 03 - 24
Commode wheelchairs
The product series contains 1 product.
Product 1 of 1


BUZZ 11 Toilet-badestol m.drivhjul, bariatrisk

Registration date

03-05-2018

Specifications
User weight, max
200
kg
Total weight
18
kg
Total width
74
cm
Width between arm supports
58
cm
Seat height, min
55.5
cm
Seat height, max
55.5
cm
Can be placed over a toilet with max heigth
48
cm
Seat depth
44
cm
Toilet opening width
19.5
cm
Tension adjustable back rest upholstery
Yes
Arms supports hinged
Yes
Arm supports pivoting
No
Arm support position may be changed to facililtate transfer
Yes
Fold-up foot supports
Yes
Height adjustable legrests
Yes
Elevating legrests
Yes
Removable legrests
Yes
Pivoting legrests
Yes
Legrest position may be changed to facililtate hygiene and transfer
Yes
Can be used with standard wall-mounted toilets (without extension)
No
Intended for children
No

Products for children must comply with the specific demands for safety as stated in certain standards. It is the supplier of the product who has stated that the product is intended for children. The National Board of Social Services holds no responsibility in relation to this assessment.