All product information is provided by the supplier. The National Board of Social Services is not responsible for either contents, origin, flaws and deficiencies, or any kind of damage that may occur from the use of the information. The National Board of Social Services has no authority to endorse products and does not assess the quality of the products.
Hide this message
.
Blys Lighthing tablet, warm white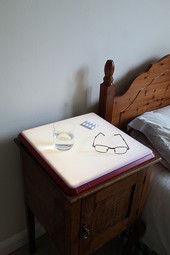 Blys Lightning tablet is a sleek, modern light source for the home. It can be used as a table top illuminator around the home or in the bedroom. As a nightlight it provides a low-level glow which allows un-interrupted sleep, but on waking it provides a focus in a room.
Classification
18 06 03 05 - Other general lights
The product series contains 1 product.
Product 1 of 1


Blys

Article-no.

E2L-PA-480-300

Registration date

14-12-2018

Properties

Integrated motion sensor

No

Integrated adjustable colour temperature

No

Test information

No information about tests according to standards
CE-marking
No information about CE-marking
The supplier has not provided any information about CE-marking of the product.
Explain CE-marking