All product information is provided by the supplier. The National Board of Social Services is not responsible for either contents, origin, flaws and deficiencies, or any kind of damage that may occur from the use of the information. The National Board of Social Services has no authority to endorse products and does not assess the quality of the products.
Hide this message
.
SCHWEIZER MULTILIGHT LED Akku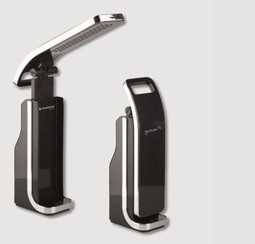 Collapsible portable LED envelope lamp, project lamp. Designed to reduce glare and make reading easier. Adjustable height due to extendable lamp head. Comes in 3 different color temperatures 2700K, 4500K and 6500K.
Classification
18 06 06 09 - Folding pocket lamps
The product series contains 3 products.
Product 1 of 3


MULTILIGHT LED Akku 2700 K

Dimensions & weight:

Footprint: 9 x 13.5 cm

Height (maximum): 35 cm

Weight: 1600 g

Registration date

15-07-2019
Properties
Integrated bulp
Yes
Heat neutral
Yes
With dimmer
No
Adjustable colourtemperature
No
Anti-dazzle
Yes
Portable
Yes

With battery

Measures
Lumen, integrated bulp
1300
lm
Colour temperature, integrated bulp
2700
Kelvin
Weight including batteries
1600
g
Product 2 of 3


MULTILIGHT LED Akku 4500 K

Dimensions & weight:

Footprint: 9 x 13.5 cm

Height (maximum): 35 cm

Weight: 1600 g

Registration date

15-07-2019
Properties
Integrated bulp
Yes
Heat neutral
Yes
With dimmer
No
Adjustable colourtemperature
No
Anti-dazzle
Yes
Portable
Yes

With battery

Measures
Lumen, integrated bulp
1550
lm
Colour temperature, integrated bulp
4500
Kelvin
Weight including batteries
1600
g
Product 3 of 3


MULTILIGHT LED Akku 6500 K

Dimensions & weight:

Footprint: 9 x 13.5 cm

Height (maximum): 35 cm

Weight: 1600 g

Registration date

15-07-2019
Properties
Integrated bulp
Yes
Heat neutral
Yes
With dimmer
No
Adjustable colourtemperature
No
Anti-dazzle
Yes
Portable
Yes

With battery

Measures
Lumen, integrated bulp
1750
lm
Colour temperature, integrated bulp
6500
Kelvin
Weight including batteries
1600
g