SCHWEIZER MULTILIGHT LED Akku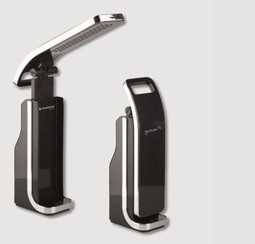 Collapsible portable LED envelope lamp, project lamp. Designed to reduce glare and make reading easier. Adjustable height due to extendable lamp head. Comes in 3 different color temperatures 2700K, 4500K and 6500K.
Classification
18 06 06 - 09
Folding pocket lamps
The product series contains 3 products.
Product 1 of 3


MULTILIGHT LED Akku 2700 K

Dimensions & weight:

Footprint: 9 x 13.5 cm

Height (maximum): 35 cm

Weight: 1600 g

Registration date

15-07-2019

Specifications
Integrated bulp
Yes
Heat neutral
Yes
With dimmer
No
Lumen, integrated bulp
1300
lm
Colour temperature, integrated bulp
2700
Kelvin
Adjustable colourtemperature
No
Anti-dazzle
Yes
Weight inclusive batteries
1600
g
Portable
Yes

With battery
Product 2 of 3


MULTILIGHT LED Akku 4500 K

Dimensions & weight:

Footprint: 9 x 13.5 cm

Height (maximum): 35 cm

Weight: 1600 g

Registration date

15-07-2019

Specifications
Integrated bulp
Yes
Heat neutral
Yes
With dimmer
No
Lumen, integrated bulp
1550
lm
Colour temperature, integrated bulp
4500
Kelvin
Adjustable colourtemperature
No
Anti-dazzle
Yes
Weight inclusive batteries
1600
g
Portable
Yes

With battery
Product 3 of 3


MULTILIGHT LED Akku 6500 K

Dimensions & weight:

Footprint: 9 x 13.5 cm

Height (maximum): 35 cm

Weight: 1600 g

Registration date

15-07-2019

Specifications
Integrated bulp
Yes
Heat neutral
Yes
With dimmer
No
Lumen, integrated bulp
1750
lm
Colour temperature, integrated bulp
6500
Kelvin
Adjustable colourtemperature
No
Anti-dazzle
Yes
Weight inclusive batteries
1600
g
Portable
Yes

With battery