All product information is provided by the supplier. The National Board of Social Services is not responsible for either contents, origin, flaws and deficiencies, or any kind of damage that may occur from the use of the information. The National Board of Social Services has no authority to endorse products and does not assess the quality of the products.
Delete this message
Varilite Icon backsystem Deep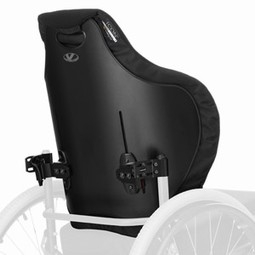 A solid back system is essential for proper positioning. It supports the spine and positions the pelvis. Lateral supports of the back system keep the user stable. Ideal for users needing maximum support.

Classification
18 10 03 01 - Backrests
The product series contains 6 products.
Product 1 of 6


Varilite Icon Deep 35

Registration date

11-01-2011

Specifications
Intended for children
Yes

Products for children must comply with the specific demands for safety as stated in certain standards. It is the supplier of the product who has stated that the product is intended for children. The National Board of Social Services holds no responsibility in relation to this assessment.

Machine washable
No
Width
35
cm
Height
43
cm
Adjustable
Yes
Product 2 of 6


Varilite Icon Deep 38

Registration date

18-05-2010

Specifications
Intended for children
Yes

Products for children must comply with the specific demands for safety as stated in certain standards. It is the supplier of the product who has stated that the product is intended for children. The National Board of Social Services holds no responsibility in relation to this assessment.

Machine washable
No
Width
38
cm
Height
46
cm
Adjustable
Yes
Product 3 of 6


Varilite Icon Deep 40

Registration date

18-05-2010

Specifications
Intended for children
Yes

Products for children must comply with the specific demands for safety as stated in certain standards. It is the supplier of the product who has stated that the product is intended for children. The National Board of Social Services holds no responsibility in relation to this assessment.

Machine washable
No
Width
40
cm
Height
49
cm
Adjustable
Yes
Product 4 of 6


Varilite Icon Deep 43

Registration date

27-10-2010

Specifications
Intended for children
No

Products for children must comply with the specific demands for safety as stated in certain standards. It is the supplier of the product who has stated that the product is intended for children. The National Board of Social Services holds no responsibility in relation to this assessment.

Machine washable
No
Width
43
cm
Height
52
cm
Adjustable
Yes
Product 5 of 6


Varilite Icon Deep 45

Registration date

18-05-2010

Specifications
Intended for children
No

Products for children must comply with the specific demands for safety as stated in certain standards. It is the supplier of the product who has stated that the product is intended for children. The National Board of Social Services holds no responsibility in relation to this assessment.

Machine washable
No
Width
45
cm
Height
55
cm
Adjustable
Yes
Product 6 of 6


Varilite Icon Deep 50

Registration date

11-01-2011

Specifications
Intended for children
No

Products for children must comply with the specific demands for safety as stated in certain standards. It is the supplier of the product who has stated that the product is intended for children. The National Board of Social Services holds no responsibility in relation to this assessment.

Machine washable
No
Width
50
cm
Height
60
cm
Adjustable
Yes