All product information is provided by the supplier. The National Board of Social Services is not responsible for either contents, origin, flaws and deficiencies, or any kind of damage that may occur from the use of the information. The National Board of Social Services has no authority to endorse products and does not assess the quality of the products.
Hide this message
.
---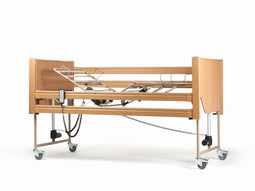 The Luna Standard bed is a stylish, high quality 4 section profiling electric bed with a user handset for convenience and full length wooden side rails for safety.
The bed comes complete with a lifting pole for extra user movement and independence. The multi adjustable 4 section mattress platform provides comfort and assists correct posture.
Add to My list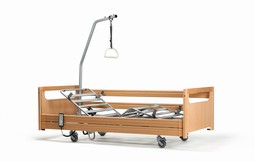 The Illico bed is a medical bed combining an attractive design and ultra-fast assembly without any extra tools. It It is also possible to transform a 2 functions bed into a 3 functions bed in a couple of minutes.
Everything has been designed so that one person easily can assemble and disassemble the bed for storage in a very short time
Add to My list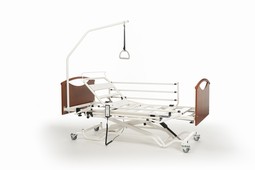 Security, practicality and esthetics
A low height bed for patients with Alzheimers disease. Very low minimum height and maximum height up to 720 mm. It is compatible with most patient lifts on the market.
3 functions electrical bed with knee buckle
Protective transport cover for the wooden panels
Serum holder
Remote control support

Add to My list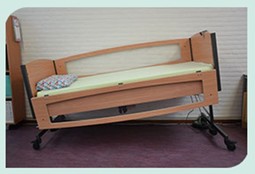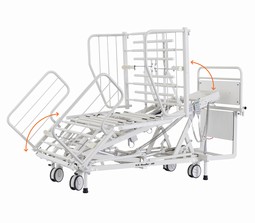 Users up to 400 kg. El. widening (30) cm and maual lengthening (20 cm). Mattress: 90-120x210-230 cm. Pre-programmed sitting positions. Removable boards. El. lift of wheels and 4 iron legs. El. anti- and trendelenburg. Battery backup, central brake and direction control. Accessories: Fixed or collapsible support grips, weight, bed mover etc
Add to My list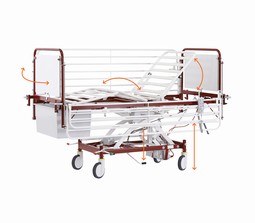 For paediatric care (140 cm). 2-3 sectioned mattress support platform, adjustable height 39-89 cm. Gradually height adjustable side rails with pedal release and double safety locks. Adjustable with one hand only. Removable Boards. Two hand operated controller, el. trendelenburg, battery backup, central brake, direction control etc.
Add to My list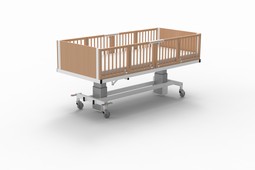 Beta Cot Vigga 3 can be configured to cover most needs. The bed is available in lengths from 140-200 cm. and width 70-80 cm. Is to be delivered with elevation. Central brake function is possible to add.
Add to My list