All product information is provided by the supplier. The National Board of Social Services is not responsible for either contents, origin, flaws and deficiencies, or any kind of damage that may occur from the use of the information. The National Board of Social Services has no authority to endorse products and does not assess the quality of the products.
Hide this message
.
---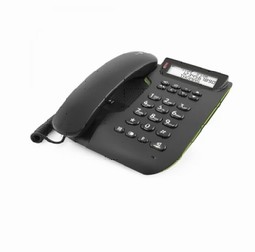 Landline telephone with amplification of sound. Max. sound reinforcement of 30 dB and maximum ring strength of 85 dB (A) at 1 meter from the phone. Compatible with hearing aids, dial display, visual call indicator, phonebook with 50 contacts, call log and separate keys.

Add to My list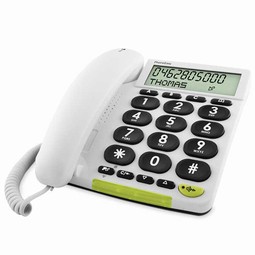 The Doro 312 is a wired phone with very big, and therefore useful for the elderly, buttons. On the clear display, phone numbers are shown in an easy-to-read black font upon a white background. With the Doro 312 you can code in up to 30 names and numbers, eckbox11(
Add to My list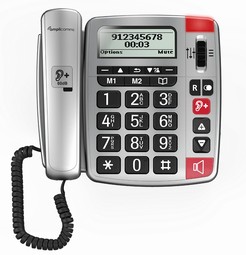 Amplifies corded phone with integrated T-coil function. 40-60 dB volume and 90 dB in ringtone. Large keys with braille on the numbers and a listening key for hands-free speech. Phonebook with 200 contacts.
Add to My list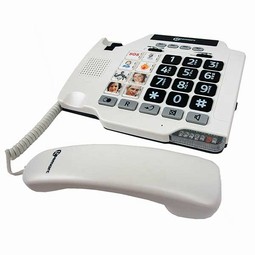 Simple and user-friendly landline phone with loud sound and large photo keys. You can easily call your 8 closest, with a single press of one of the 8 large photo keys.
Add to My list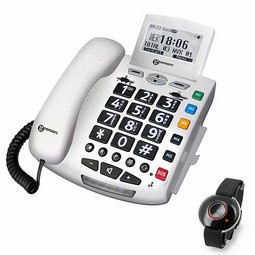 Landline telephone with emergency call, emergency call bracelet, amplification of the sound, dialer, telephone book and 5 speed dial buttons. Caller ID. Outgoing voice adjustment /- 4 dB. Phonebook with space for 30 contacts. Number reader.

Add to My list
Amplifier phone with extra loud sound. Up to 85 dB ringtone and up to 30dB in-tube audio. If your family has difficulty hearing you on the phone, if you have a weak voice or they themselves are hearing impaired, your CL100 can increase the strength of your voice by / - 4 dB.
Add to My list
Max. amplification of up to 60 dB with the option of adjusting the tone for better sound quality. Max. sound strength at 1 meter 90 dB (A). The phone has large keys, visual call indicator, dialer display, call log, speaker and phone book of 50 contacts. Is compatible with hearing aids.

Add to My list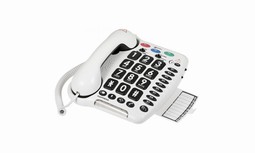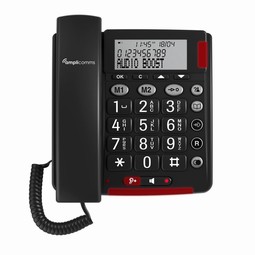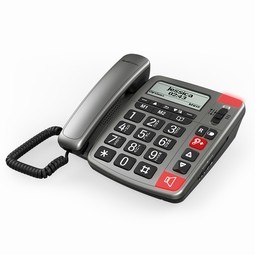 PowerTel 196 is an amplifier telephone with built-in loop, number display and number blocking
The phone has an easy-to-read keyboard and display. A slider with tone control makes it easy to set the frequency range for the users hearing. The phone has 2 programmable quick keys, phonebook, number display, and a 60 dB boost button.
Add to My list