All product information is provided by the supplier. The National Board of Social Services is not responsible for either contents, origin, flaws and deficiencies, or any kind of damage that may occur from the use of the information. The National Board of Social Services has no authority to endorse products and does not assess the quality of the products.
Hide this message
.
2 product series.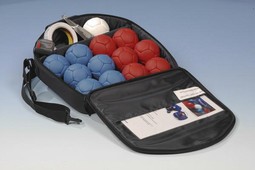 Boccia in convenient bag. Play bocce standing, sitting on a chair or wheelchair. Collating.: 13 pieces. leather balls ø: 82 mm, 1 special tape measure, measuring 1 match, 1 bocciatape and guidance.
Add to My list
The popular game in the new in and out version. supersoft durable balls. For grass / sandy beach / gravel or garden. Store in a convenient bag. Consists of 6 blue and 6 red balls ø 10 cm. and and 1 jack island 7 cm.
Add to My list