All product information is provided by the supplier. The National Board of Social Services is not responsible for either contents, origin, flaws and deficiencies, or any kind of damage that may occur from the use of the information. The National Board of Social Services has no authority to endorse products and does not assess the quality of the products.
Hide this message
.
---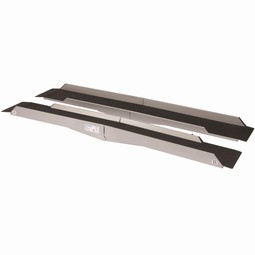 Ramp that is used in pairs, specially made for electric wheelchair. The ramps fold on the middle, so that it takes up very little space during transportation. The ramps are extra wide in order to make space for the electric wheelchair.
Add to My list

Rails for wheelchairs made in aluminium with a slip-resistant padding. The rails can be folded on the middle to increase mobility and make them easy to transport.
The access ramp is type approved for weights up to 300 kg.
Add to My list