All product information is provided by the supplier. The National Board of Social Services is not responsible for either contents, origin, flaws and deficiencies, or any kind of damage that may occur from the use of the information. The National Board of Social Services has no authority to endorse products and does not assess the quality of the products.
Hide this message
.
This product series and all belonging products have been discontinued since 03-01-2022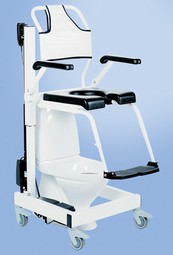 Combined mobile electric shower/commodeSeat with cut-out for intimate hygiene and holder for bedpan. May often replace ordinary lifts. 40 cm lifting interval provides ideal working conditions for the attendant and enables the user active participation.
Vertical lift counteracts the risk of tipping over when the user transfers to standing position.

Classification
09 12 03 23 - Commode shower chairs with hydraulic/electrical height adjustment
The product series includes 1 discontinued product.
Include discontinued products
.