All product information is provided by the supplier. The National Board of Social Services is not responsible for either contents, origin, flaws and deficiencies, or any kind of damage that may occur from the use of the information. The National Board of Social Services has no authority to endorse products and does not assess the quality of the products.
Hide this message
.
High Perfomance Line (H-serie)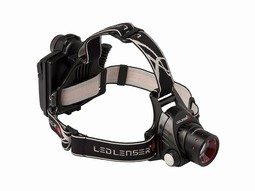 The H Series with a unique optical system (patent pending), user-friendliness, wearing comfort and extreme brightness let these models stand out from the mass of head lamps.
Classification
18 06 06 11 - Head worn lamps
The product series contains 3 products.
The product series also includes 4 discontinued products.
Include discontinued products
.
Product 1 of 3


LEDLENSER H3.2

The LED Lenser H3 features:-

Cloverleaf reflector system

3 high quality LEDs

Integrated dimmer switch Hi-Low beam facility

Lamp head can be swivelled within an angle of 90 degrees

Fully adjustable straps

Beam visible up to 2000 metres

60 lumens of light

The lamp head can be swivelled within an angle of 90 degrees

Registration date

27-02-2012
Product 2 of 3


Ledlenser H4

The LEDLENSER H4 is an intriguingly innovative head lamp with little weight and convincing brightness. This small head lamp is a master of metamorphosis: with a mere flick of the wrist, the LED LENSER H4 turns into a handy flashlight

LED 3x High End LED

Lumens 45 lm

Batteries 3x AAA 1,5 V

Energy tank 5,4 Wh

Burning life 15 h

Beam range 20 m

Registration date

27-02-2012
Product 3 of 3


Ledlenser H7R Core

Registration date

27-02-2012

Properties

Adjustable colourtemperature

No

Measures

Lumen, integrated bulp

1000

lm

Colour rendering, integrated bulp

70

Ra

Colour temperature, integrated bulp

6000

Kelvin

Weight including batteries

259

g