All product information is provided by the supplier. The National Board of Social Services is not responsible for either contents, origin, flaws and deficiencies, or any kind of damage that may occur from the use of the information. The National Board of Social Services has no authority to endorse products and does not assess the quality of the products.
Hide this message
.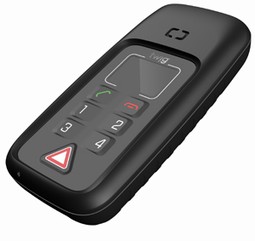 A small and easy to use mobile phone and GPS module. Citizens with dementia in an early stage may use twig Protector as a locating device and as a normal telephone. The person with dementia will not draw attention with the device but tracking the location is still possible. Can also be used if you work alone or are in need of safety at work.

Classification
22 27 24 07 - Person locators and person trackers
The product series contains 1 product.
Product 1 of 1


Twig Protector

Registration date

06-01-2010

Properties

Automatic low battery warning

Yes

Automatic alarm when leaving a defined area

Yes

Emergency button on control unit

Yes

Measures

Battery, min run time

24

timer

Battery, typical run time

24

timer

Test information

No information about tests according to standards
CE-marking
No information about CE-marking
The supplier has not provided any information about CE-marking of the product.
Explain CE-marking