Shoulder belt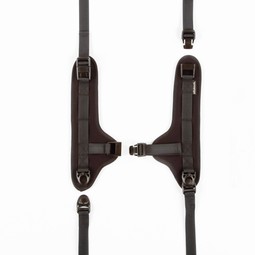 The shoulder belt (H-form) stabilizes the upper body without restricting freedom of movement. Distributes pressure across chest and shoulder. Can be unfastened at the side, shoulder and in the middle. Padding of neoprene with a nylon cover. Washable up to 60oC. Standard mounting set included.
Classification
09 07 03 - 02
Harnesses with shoulder fixation for use in a seat
The product series contains 3 products.
Specifications summarized
Specifications for the 3 products in the product series. Click a HMI-no. to see all details for a single product.
Product 1 - 3
Specification/HMI-no.
71660
71661
71662
Intended for children
Yes
Yes
Yes
Intended use in water
No
No
No
Length, min (cm)
30
33
43
Length, max (cm)
30
33
43
H-shaped harness
Yes
Yes
Yes
Sternal support
No
No
No
Vest
No
No
No
Parts of the belt are between the legs
No
No
No
Secured from unintended unlocking
Yes
Yes
Yes