All product information is provided by the supplier. The National Board of Social Services is not responsible for either contents, origin, flaws and deficiencies, or any kind of damage that may occur from the use of the information. The National Board of Social Services has no authority to endorse products and does not assess the quality of the products.
Hide this message
.
Kanso M300, robust and practical outdoor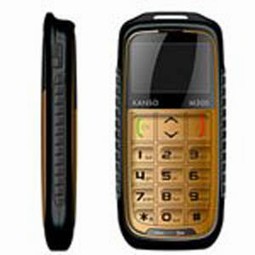 Kanso M300 is a robust and practical outdoor mobilphone. It is a rugged design mobilphone, which can resist water and dust. Therefore it is very handy for you as a fisherman, mountainbiker, boater or other outdoor people. It is standby time 7 - 8 days and talking time 2 hours. This littel phone would be a great choice for a weekend in the outdoors.
Classification
22 24 06 01 - Mobile telephones
Documents
User manual
The product series contains 1 product.
Product 1 of 1


Kanso M300, robust and practical outdoor

Article-no.

5710759000040

Registration date

04-06-2012

Properties

Silent alert (vibration)

Yes

Measures

Standby time per charge, max

192

timer

Max talk time per charge

2

timer

Test information

No information about tests according to standards
CE-marking
The supplier has provided the following information about CE-marking of the product.
Explain CE-marking
Low voltage (LVD) - 2014/35/EU
Radio equipment - 2014/53/EU