All product information is provided by the supplier. The National Board of Social Services is not responsible for either contents, origin, flaws and deficiencies, or any kind of damage that may occur from the use of the information. The National Board of Social Services has no authority to endorse products and does not assess the quality of the products.
Hide this message
.
Focus Electronic Basin Mixer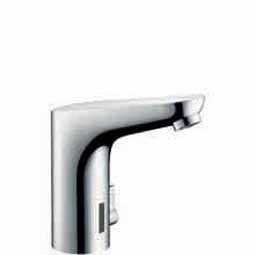 infrared sensor technology
adjustable optical range of infrared sensor (2 modes)
theft-proof aerator
manual flow stop for cleaning
temperature adjustable through mixer lever on the side
adjustable hot water safety stop
microfilter removable and cleanable
flow limiter 5 l/min
6V battery
Classification
18 24 03 03 - Fittings  
The product series contains 1 product.
Product 1 of 1


Focus Electronic Basin Mixer

Article-no.

VVS-nr. 704111104, HG nr. 31171000

Registration date

27-06-2012