All product information is provided by the supplier. The National Board of Social Services is not responsible for either contents, origin, flaws and deficiencies, or any kind of damage that may occur from the use of the information. The National Board of Social Services has no authority to endorse products and does not assess the quality of the products.
Hide this message
.
BionX bike retrofit system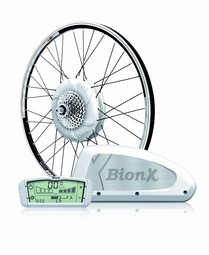 BionX is a series of retrofit systems for bicycles so that they are effectively to be regarded as pedelecs. The system is continuously monitoring the input of muscle power from the user and assist with electric power accordingly.
The system has good performance in terms of strength, silence and range. Rear wheel motor.
Classification
12 18 21 05 - Propulsion units for cycles
The product series contains 1 product.
Product 1 of 1


BionX SL 250HT

Available in two battery kapacities and for both frame and rear rack installation.

BionX SL 250HT DT L

BionX SL 250HT DT XL

BionX SL 250HT RR L

BionX SL 250HT RR XL

Article-no.

BionX SL 250HT

Registration date

28-08-2012

Test information

No information about tests according to standards
CE-marking
No information about CE-marking
The supplier has not provided any information about CE-marking of the product.
Explain CE-marking