All product information is provided by the supplier. The National Board of Social Services is not responsible for either contents, origin, flaws and deficiencies, or any kind of damage that may occur from the use of the information. The National Board of Social Services has no authority to endorse products and does not assess the quality of the products.
Delete this message
Victor Reader Stream - Wireless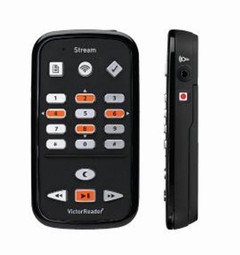 The new Streams slim, sleek, compact design makes it 28 mm smaller than its predecessor. Its new compact design is thinner and features rounded corners to make it more comfortable to hold. Yet, it retains the popular tactile keypad access, and simple bookejring.

nH(
Classification
22 18 03 15 - Devices recording and playback of sound in digital formats
The product series contains 1 product.
Product 1 of 1


Victor Reader Stream - Wireless

DAISY formats supported: 2.0, 2.0.2, and ANSI/NISO Z39.86 2002/2005 (DAISY 3). Audio formats: MP4-AAC, AMR-WB, FLAC, MP3, Ogg Vorbis, Speex, WAV. Text-to-speech: Acapela (2 voices) to play brf, txt, html, xml, DOCX, EPUB. SD slot supports up to 32GB SDHC carejring.

Registration date

29-01-2013

Specifications
Working time
15
timer
Adjustable playback speed
Yes
Display
No
Can play text files
Yes
Can read daisy files
Yes
Hand held
Yes
Table model
No
Visually distinct keys
Yes

Keys with enlarged characters or intense contrast

Recording function
Yes
Calendar function
No
For CD
No
For memory card
Yes
Wifi
Yes