Neck-/lumbar pillow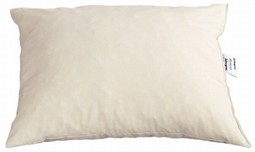 Hygienic and washable cushion.
Can be shaped and is flexible.
Following the exact contour of the body. L
High Quality visco elastic polymer foam with shock absorption.
The pillow can be washed at 95gr. and withstand autoclave.
Cover can be purchased from:
Very soft cotton velor.
Color: Beige
Wash at 60 drgs.
Classification
18 12 15 - 04
Pillows and headrests
The product series contains 2 products.
Product 1 of 2


Neck-/lumbar pillow, 18x30 cm

Registration date

15-05-2018

Specifications
| | | | |
| --- | --- | --- | --- |
| Intended for children | No | | Products for children must comply with the specific demands for safety as stated in certain standards. It is the supplier of the product who has stated that the product is intended for children. The National Board of Social Services holds no responsibility in relation to this assessment. |
| Width | 18 | cm | Same direction as the width of the mattress. |
| Height | 7.5 | cm | Same as the thickness. |
| Length | 30 | cm | Same direction as the length of the mattress. |
Product 2 of 2


Neck-/lumbar pillow, 30x40 cm

Registration date

16-12-2013

Specifications
| | | | |
| --- | --- | --- | --- |
| Intended for children | No | | Products for children must comply with the specific demands for safety as stated in certain standards. It is the supplier of the product who has stated that the product is intended for children. The National Board of Social Services holds no responsibility in relation to this assessment. |
| Width | 40 | cm | Same direction as the width of the mattress. |
| Height | 7.5 | cm | Same as the thickness. |
| Length | 30 | cm | Same direction as the length of the mattress. |