All product information is provided by the supplier. The National Board of Social Services is not responsible for either contents, origin, flaws and deficiencies, or any kind of damage that may occur from the use of the information. The National Board of Social Services has no authority to endorse products and does not assess the quality of the products.
Hide this message
.
Wingman Condom for one hand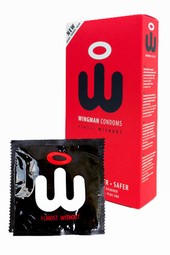 Condoms, rolled up around a disposable plastic ring, offer simple and correct application with just ONE hand (two hands can be used). Easy for the user itself and appropriate if a caregiver must assist with the application when this unique design makes a minimum of physical contact with the penis possible. 8 pieces in a package.

Classification
09 54 06 01 - Assistive products for erection
The product series contains 1 product.
Product 1 of 1


Wingman Condom - for one hand

Registration date

14-07-2014

Test information

No information about tests according to standards
CE-marking
No information about CE-marking
The supplier has not provided any information about CE-marking of the product.
Explain CE-marking