All product information is provided by the supplier. The National Board of Social Services is not responsible for either contents, origin, flaws and deficiencies, or any kind of damage that may occur from the use of the information. The National Board of Social Services has no authority to endorse products and does not assess the quality of the products.
Hide this message
.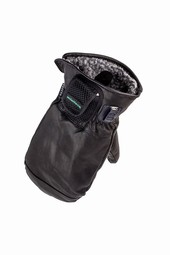 Mitt by the brand Gaucho or Hestra has been a sought after warmth. It is suitable for use in cars, for handles and the like. Insulation ability is moderate. The heat wire is sewn into the vantens Primaloft.
Material: Outer part of soft lamb skin, color black
Inder-for in soft Primaloft.
Cuff in Fabrifoam.
Classification
09 03 12 06 - Mittens
The product series contains 1 product.
Product 1 of 1


Mitt with heat standard leather

Registration date

02-12-2018

Properties

Intended for children

No
Products for children must comply with the specific demands for safety as stated in certain standards. It is the supplier of the product who has stated that the product is intended for children. The National Board of Social Services holds no responsibility in relation to this assessment.
Specifically designed for use in combination with another product
No
E.g. designed for operating joysticks, steering handles, or mobility canes
Focus on skin condition
Yes
For use for skin conditions.
Test information
No information about tests according to standards
CE-marking
No information about CE-marking
The supplier has not provided any information about CE-marking of the product.
Explain CE-marking