BP 500 Blood Pressure Monitor, Wrist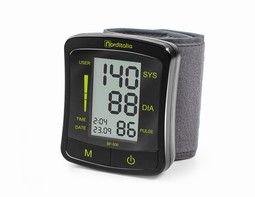 Precise - easy to use. Blood pressure monitor wrist-type fully automatic. Extrimely accurate. Easy to use: measure with the push of a button.
Large easy to read LCD display.
Memory with date and time and average of the last three measurements.
120 memories available for one user or 60 memories for two users.
Classification
04 24 09 - 01
Blood pressure meters (sphygmomanometers)
The product series contains 1 product.
Product 1 of 1


BP 500 Blood Pressure Monitor, Wrist

Registration date

04-12-2018