All product information is provided by the supplier. The National Board of Social Services is not responsible for either contents, origin, flaws and deficiencies, or any kind of damage that may occur from the use of the information. The National Board of Social Services has no authority to endorse products and does not assess the quality of the products.
Hide this message
.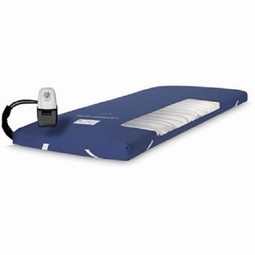 Classification
04 33 06 09 - Mattress overlays for pressure-sore prevention, static air
The product series contains 10 products.
The product below meets the specified details.
Click
show all products
to see all products belonging to the product series.
CuroCell S.A.M. Switch 120x200x10 cm
Registration date
07-02-2019
Specifications
Intended for children
No

Products for children must comply with the specific demands for safety as stated in certain standards. It is the supplier of the product who has stated that the product is intended for children. The National Board of Social Services holds no responsibility in relation to this assessment.

Length
200
cm
Width
120
cm
Height
10
cm
Cover mashine washable
Yes
Fire-retardant cover
Yes
Water resistant cover
Yes
Cover extensible in all directions
Yes
Allergy friendly cover
Yes
Removable cover included
Yes
Mattress weight
2.6
kg
User weight, max
200
kg
Divided into sections
Yes

Divided into sections with differing construction with respect to various parts of the body.

Warning in case of loss of air
No
Warning in case of loss of power
No
Rapid mattress deflation
No
Can be used with underlying powered turning systems
Yes
Intended for use with adjustable mattress support platform
Yes
Intended for pressure ulcer category up to (incl.)
2

According to European Pressure Ulcer Advisory Panels (EPUAPs) four category classification 1-4, and given that the EPUAP and NPUAP guidelines are followed.