All product information is provided by the supplier. The National Board of Social Services is not responsible for either contents, origin, flaws and deficiencies, or any kind of damage that may occur from the use of the information. The National Board of Social Services has no authority to endorse products and does not assess the quality of the products.
Hide this message
.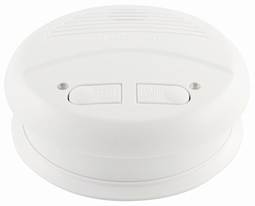 The Smoke Detector is equipped with Tunstalls built-in transmitter (Tx4). Alarms are transfered through Tunstalls care phone Careline.
Classification
22 27 21 01 - Environmental emergency alarm systems
The product series contains 1 product.
Product 1 of 1


Smoke Detector with Tx4

The Smoke Detector should not be seen as a substitute for a traditional fire alarm system, but as a supplement to specific needs.

The Smoke Detector is equipped with Tunstalls built-in transmitter (Tx4). This means that alarms are transfered through the Careline care phone.

Registration date

07-05-2019

Properties

Stationary connection required

No