All product information is provided by the supplier. The National Board of Social Services is not responsible for either contents, origin, flaws and deficiencies, or any kind of damage that may occur from the use of the information. The National Board of Social Services has no authority to endorse products and does not assess the quality of the products.
Hide this message
.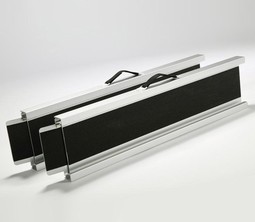 Sturdy, metal telescopic ramps available in 2m and 3m lengths. Complete with carry handles and anti-skidding top layer for maximum safety.
Classification
18 30 15 08 - Track ramps
The product series contains 1 product.
Product 1 of 1


Telescop ramp

Registration date

07-02-2020

Properties

Measures

Load, max

220

kg
For both track ramps and ramps please state the allowed load pr. item.
Weight
10.6
kg
Weight per track
Actual length in use, min
106
cm
The minimum length in use of the track excluding lips
Actual length in use, max
313
cm
The maximum length in use of the track excluding lips
Transportation length
100
cm
CE-marking
Medical devices - 93/42/EEC