All product information is provided by the supplier. The National Board of Social Services is not responsible for either contents, origin, flaws and deficiencies, or any kind of damage that may occur from the use of the information. The National Board of Social Services has no authority to endorse products and does not assess the quality of the products.
Hide this message
.
Hannah 98 care cot Colour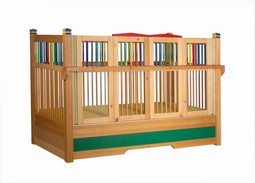 Classification
18 12 04 03 - Cots, non-adjustable
The product series contains 1 product.
Product 1 of 1


Hannah 98 Care cot 200/100 cm colour

Registration date

01-09-2004
Properties
Intended for children
Yes

Products for children must comply with the specific demands for safety as stated in certain standards. It is the supplier of the product who has stated that the product is intended for children. The National Board of Social Services holds no responsibility in relation to this assessment.

Intended for use in hospitals
Yes
Intended for use in a domestic area
Yes
Measures
Outside measure length
215
cm
Outside measure width
110
cm
Mattress size, length
200
cm
Mattress size, width
100
cm
Load, max
170
kg

Maximum external load on the product that is permitted in normal use

User weight, max
135
kg
Weight of heaviest main part
18
kg
Height of cot side
98
cm

Measured from the top of the mattress support platform to the top of the cot side

Height of mattress support platform
50
cm

Measured without mattress

Internal length
200
cm

Measured from the inside of one end panel to the inside of the other end panel.