Chiroform Millennium Top Mattres w/WP Cover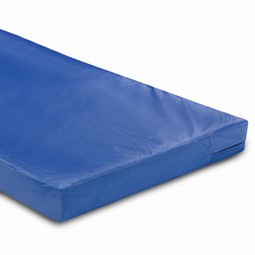 The Chiroform Top Mattress is made from viscoelastic memory foam with open pores, which allows the material to breathe. The body temperature affects the material where the foam reacts to the heat from the body, thus providing optimum pressure equalisation, so that the counter-pressure is evenly distributed throughout the body.
5 year warranty.
Classification
18 12 18 - 32
Mattress overlays, foam
Sekundær
klassificering 04 33 06 - 08
Mattress overlays for pressure-sore prevention, foam.


The product series contains 2 products.
The product series also includes a discontinued product. Change
Settings
to display this product.
Product 1 of 2


Chiroform Millennium Top Mattress w/WP Cover 70x200x5 cm.

The Top Mattress is suppled with WP Cover

Registration date

30-06-2009

Specifications
Intended for children
No

Products for children must comply with the specific demands for safety as stated in certain standards. It is the supplier of the product who has stated that the product is intended for children. The National Board of Social Services holds no responsibility in relation to this assessment.

Length
200
cm
Width
70
cm
Height
4.5
cm
Cover mashine washable
Yes
Fire-retardant cover
Yes
Water resistant cover
Yes
Cover extensible in all directions
Yes
Allergy friendly cover
No
Removable cover included
Yes
Mattress weight
5
kg
User weight, min
0
kg

State here the lowest bodyweight the mattress has been tested for. If the mattress hasn't been tested for this, please leave the question unanswered.

User weight, max
140
kg
Intended for use with adjustable mattress support platform
Yes
Product 2 of 2


Chiroform Millennium Top Mattress w/WP Cover 90x200x5 cm.

The Top Mattress is supplied with WP Cover

Registration date

30-06-2009

Specifications
Intended for children
No

Products for children must comply with the specific demands for safety as stated in certain standards. It is the supplier of the product who has stated that the product is intended for children. The National Board of Social Services holds no responsibility in relation to this assessment.

Length
200
cm
Width
90
cm
Height
4.5
cm
Cover mashine washable
Yes
Fire-retardant cover
Yes
Water resistant cover
Yes
Cover extensible in all directions
Yes
Allergy friendly cover
No
Removable cover included
Yes
Mattress weight
6
kg
User weight, min
0
kg

State here the lowest bodyweight the mattress has been tested for. If the mattress hasn't been tested for this, please leave the question unanswered.

User weight, max
140
kg
Intended for use with adjustable mattress support platform
Yes