All product information is provided by the supplier. The National Board of Social Services is not responsible for either contents, origin, flaws and deficiencies, or any kind of damage that may occur from the use of the information. The National Board of Social Services has no authority to endorse products and does not assess the quality of the products.
Delete this message
Indivo lift for freestanding worktops (electric)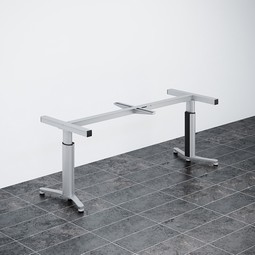 Lift with electric motor for freestanding worktops. 300 mm height adjustable. Adjusted via the switch in the tables front edge or an optional hand control. Supplied with 2 telescopic legs, longitudinal and cross brackets and switch. The worktop should be fitted with a safety rail to prevent crushing injuries.
Classification
18 15 06 01 - Height-adjustable plinths and brackets
The product series contains 3 products.
Product 1 of 3


Electric lift for freestanding worktops from 1400 - 2000 mm

Registration date

03-09-2010
Product 2 of 3


Electric lift for freestanding worktops from 2001 - 2400 mm

Registration date

03-09-2010
Product 3 of 3


Electric lift for freestanding worktops from 2401 - 3000 mm

Registration date

03-09-2010