All product information is provided by the supplier. The National Board of Social Services is not responsible for either contents, origin, flaws and deficiencies, or any kind of damage that may occur from the use of the information. The National Board of Social Services has no authority to endorse products and does not assess the quality of the products.
Delete this message
SAFE Med OP-Ear pillow for use at the OP-theater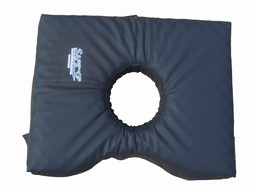 SAFE Med OP Ear Pillow with Comfor OP cover for total pressure relief of the ear, lying on the side, or for the back head region when the person is lying on the back.
Both cushion and cover can be machine washed at 95 degrees C, can be autoclaved at 134 degrees C and also tumble dried, which ensures optimal hygiene.

Classification
18 12 15 04 - Pillows and headrests
The product series contains 1 product.
Product 1 of 1


SAFE Med OP Ear pillow

Registration date

08-09-2010

Specifications
| | | | |
| --- | --- | --- | --- |
| Intended for children | No | | Products for children must comply with the specific demands for safety as stated in certain standards. It is the supplier of the product who has stated that the product is intended for children. The National Board of Social Services holds no responsibility in relation to this assessment. |
| Width | 40 | cm | Same direction as the width of the mattress. |
| Height | 6 | cm | Same as the thickness. |
| Length | 32 | cm | Same direction as the length of the mattress. |