HEWI Support rail - 300mm (950-seris)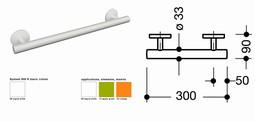 Classification
18 18 06 - 03
Handgrips, fixed, straight
The product series contains 1 product.
Product 1 of 1


HEWI Support rail - 300mm

Registration date

16-12-2011

Specifications
Load, max
150
kg
Diameter of grip
3.3
cm
Length
30
cm

The length is the distance between the two mounting points.

Depth
9
cm

The depth is the distance from the wall to the inside of the hand grip.