All product information is provided by the supplier. The National Board of Social Services is not responsible for either contents, origin, flaws and deficiencies, or any kind of damage that may occur from the use of the information. The National Board of Social Services has no authority to endorse products and does not assess the quality of the products.
Delete this message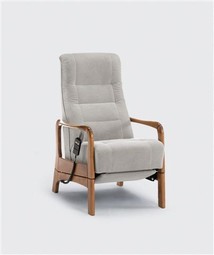 Lovely retirement chair with built-in footrest.

The chair has a motor that controls all functions through simple instruction to stand up and set function:
- Stand up and sit function (ejection seat)
- Stool
- Backrest can be laid down to rest position when the footrest is in a horizontal position.

Available in different covers.
Classification
18 09 15 06 - Easy chairs with electrical adjustments
The product series contains 3 products.
Product 1 of 3


Himolla 7662 27 E

Registration date

16-02-2013

Specifications
Intended for children
No

Products for children must comply with the specific demands for safety as stated in certain standards. It is the supplier of the product who has stated that the product is intended for children. The National Board of Social Services holds no responsibility in relation to this assessment.

User weight, max
120
kg
Product 2 of 3


Himolla 7662 27 G

Registration date

18-04-2012

Specifications
Intended for children
No

Products for children must comply with the specific demands for safety as stated in certain standards. It is the supplier of the product who has stated that the product is intended for children. The National Board of Social Services holds no responsibility in relation to this assessment.

User weight, max
120
kg
Product 3 of 3


Himolla 7662 27 L

Registration date

16-02-2013

Specifications
Intended for children
No

Products for children must comply with the specific demands for safety as stated in certain standards. It is the supplier of the product who has stated that the product is intended for children. The National Board of Social Services holds no responsibility in relation to this assessment.

User weight, max
120
kg