Merlin HD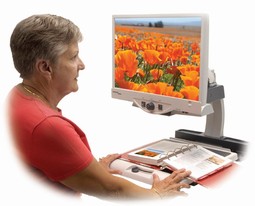 Merlin HD offers high definition color and contrast, resulting in a beautiful crystal clear picture with vibrant colors. See for yourself what makes Merlin HD the greatest value and best picture quality available in desktop magnification. Available in 22 inch or 24 inch monitor.
Classification
22 03 18 - 05
Desktop video magnifiers with an integrated monitor
The product series contains 2 products.
Product 1 of 2


Merlin HD 22

HD camera

22 inch High resolution HD LCD for best image quality

Simple, easy-to-use tactile controls

LED lighting for truer picture and color

Screen easily pivots horizontally and vertically to provide the most comfortable viewing position

Wide range of adjustable magnification

Adjustable viewing modes allow you to personalize the Merlin HD

Registration date

20-04-2012

Specifications
Monitor size
22
"

Diagonal measure

HD Camera
Yes
Magnification, min
2
Magnification, max
77
Colour combinations programable
Yes
Computer connection
Yes
TV connection
No
Touch Screen
No
Split Screen
Yes
Camera for distant viewing
Yes
Remote control unit
Yes
Read out loud function
No
Product 2 of 2


Merlin HD 24

HD camera

24 inch High resolution HD LCD for best image quality

Simple, easy-to-use tactile controls

LED lighting for truer picture and color

Screen easily pivots horizontally and vertically to provide the most comfortable viewing position

Wide range of adjustable magnification

Adjustable viewing modes allow you to personalize the Merlin HD

Registration date

20-04-2012

Specifications
Monitor size
24
"

Diagonal measure

HD Camera
Yes
Magnification, min
2
Magnification, max
77
Colour combinations programable
Yes
Computer connection
No
TV connection
No
Touch Screen
No
Split Screen
No
Camera for distant viewing
No
Remote control unit
Yes
Read out loud function
No