All product information is provided by the supplier. The National Board of Social Services is not responsible for either contents, origin, flaws and deficiencies, or any kind of damage that may occur from the use of the information. The National Board of Social Services has no authority to endorse products and does not assess the quality of the products.
Hide this message
.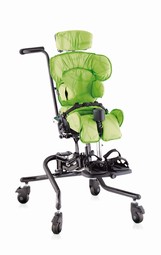 Squiggles Seating System provides postural support for younger children aged 1-5 years with special needs. Suitable for use as a home chair, school chair or with a buggy base, Squiggles meets all the postural and comfort requirements of a seating system for young children with special needs while still maintaining a fun, colourful design.
Classification
18 09 39 02 - Modular wheelchair seats
The product series contains 1 product.
Product 1 of 1


Squiggles Seating System (1-5 years)

Registration date

07-05-2012

Properties

Intended for children

Yes
Products for children must comply with the specific demands for safety as stated in certain standards. It is the supplier of the product who has stated that the product is intended for children. The National Board of Social Services holds no responsibility in relation to this assessment.
Measures