All product information is provided by the supplier. The National Board of Social Services is not responsible for either contents, origin, flaws and deficiencies, or any kind of damage that may occur from the use of the information. The National Board of Social Services has no authority to endorse products and does not assess the quality of the products.
Hide this message
.
Piaggio Ape 50 - no license needed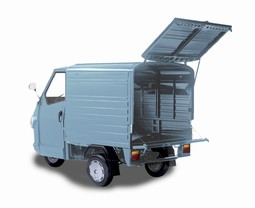 30 km/h small moped
Closed cabin
Handling by left & right hand plus right foot
Possibility to modify method of handling
Gasoline engine (range approx 200km)
Small turning radius
Stabil in all kind of weather
Low step when entering cabin
Heating system is an ekstra option.
More info on https://apeimport.dk
Classification
12 16 06 01 - Three-wheeled mopeds and motorcycles
The product series contains 4 products.
Product 1 of 4


Piaggio Ape 50, Cross (open cargo space, crash protection)

This edition is delivered with an open deck and a small lower hinge gate at the back and steel tube on the front of the cabin and on the deck behind the drivers cabin as protection.

cargo space measures 1350x1140mm

Registration date

10-05-2012

Test information

No information about tests according to standards
CE-marking
No information about CE-marking
Product 2 of 4


Piaggio Ape 50, Pick-up (open cargo space)

This edition is delivered with an open deck and a small lower hinge gate at the back.

cargo space measures 1190x1140mm

Registration date

10-05-2012

Test information

No information about tests according to standards
CE-marking
No information about CE-marking
Product 3 of 4


Piaggio Ape 50, Top (open cargo space, alu sides)

This edition is delivered with an open deck with aluminium sides and a small lower hinge gate at the back in aluminium.

cargo space measures 1350x1200mm

Registration date

10-05-2012

Test information

No information about tests according to standards
CE-marking
No information about CE-marking
Product 4 of 4


Piaggio Ape 50, Van (closed cargo space)

This edition is delivered with closed cargo space with a large upper hinge tailgate and a small lower hinge gate.

cargo space measures 1190x1140mm / 1,5 m3

Registration date

10-05-2012

Test information

No information about tests according to standards
CE-marking
No information about CE-marking