All product information is provided by the supplier. The National Board of Social Services is not responsible for either contents, origin, flaws and deficiencies, or any kind of damage that may occur from the use of the information. The National Board of Social Services has no authority to endorse products and does not assess the quality of the products.
Hide this message
.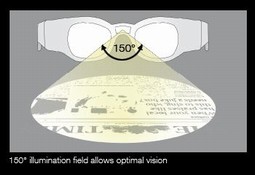 Leddles is an optical light engineering wearable system generating a constantly and uniformly illuminated view space. It combines cutting-edge LED technology to a sufisticated electronic light controller to high magnification lenses and optical systems.

Leddles is extremely useful to visually impaired people.
Classification
18 06 06 11 - Head worn lamps
The product series contains 1 product.
Product 1 of 1


Leddles

Leddles lighting is congruent with the human field of view: luminous flux width and orientation offers an optimal illumination for both low vision patients and normally sighted people.

Suitable for anybody in need for magnification and lighting of controlled quality and quantity, allowing the highest comfort for near vision activities

Article-no.

Leddles brillestel

Registration date

24-05-2012