All product information is provided by the supplier. The National Board of Social Services is not responsible for either contents, origin, flaws and deficiencies, or any kind of damage that may occur from the use of the information. The National Board of Social Services has no authority to endorse products and does not assess the quality of the products.
Hide this message
.
Stools with 1 or 2 steps/ with/without bar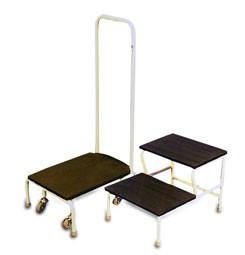 Stools are made of stainless steel. Legs are covered with rubber pads. Wooden boards are covered with anti-slip purpose rubber.
Classification
18 30 21 01 - Ladders and stepladders
The product series contains 5 products.
Product 1 of 5


Stool - 1 step

Made of stainless steel. Legs are covered with rubber pads. Wooden boards are covered with anti-slip purpose rubber. W48 x L40 x H25 cm. Wooden board: W48 x L34

Registration date

12-12-2012
Product 2 of 5


Stool - 1 step and wheels, with a bar

Stool with two wheels and a support bar. Stool is stationary under weight. Constructed powder coated steel support bar and 50 mm (diameter) wheels. Wooden boards are covered with anti-slip purpose rubber. Dimensions: W42 x L50 x H20 cm/(with bar)H100 cm. Wooden board: W48 x L34 cm.

Registration date

12-12-2012
Product 3 of 5


Stool - 2 steps and wheels, with a bar

Stool with two wheels and a support bar. Stool is stationary under weight. Has a constructed powder coated steel support bar and 50 mm (diameter) wheels. Wooden boards are covered with anti-slip purpose rubber.

Dimensions:

stool dimensions: W48 x L34 x H20/40 cm

total dimensions: W50 x L63 x H130 cm

Registration date

12-12-2012
Product 4 of 5


Stool - 2 steps without a bar - polished

Stool is made of stainless steel. Legs are covered with rubber pads. Wooden boards are covered with anti-slip purpose rubber. Dimensions: W48 x L66 x H23/44 cm. Wooden board: W48 x L34 cm

Registration date

12-12-2012
Product 5 of 5


Stool - 2 steps without a bar - stainless steel

Stool is made of stainless steel. Legs are covered with rubber pads. Wooden boards are covered with anti-slip purpose rubber. Dimensions: W48 x L66 x H23/44 cm. Wooden board: W48 x L34 cm.

Registration date

12-12-2012