All product information is provided by the supplier. The National Board of Social Services is not responsible for either contents, origin, flaws and deficiencies, or any kind of damage that may occur from the use of the information. The National Board of Social Services has no authority to endorse products and does not assess the quality of the products.
Hide this message
.
This product series and all belonging products have been discontinued by ITECH ApS since 20-07-2023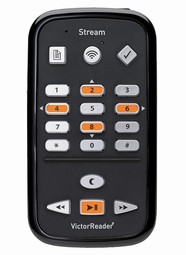 Classification
22 18 03 15 - Devices recording and playback of sound in digital formats
Documents
User manual
The product series includes 1 discontinued product.
Product 1 of 1


Victor Reader Stream 2The product was discontinued from ITECH ApS 20-07-2023.

HMI-no 76988 is on the market from 4 other suppliers. Click HMI-no to see all suppliers of HMI-no 76988.

Registration date

26-03-2013

Properties

Adjustable playback speed

Yes

Visually distinct keys

Yes
Keys with enlarged characters or intense contrast
Measures
Test information
No information about tests according to standards
CE-marking
The supplier has provided the following information about CE-marking of the product.
Explain CE-marking
Medical Device Regulation (MDR) - 2017/745/EU