All product information is provided by the supplier. The National Board of Social Services is not responsible for either contents, origin, flaws and deficiencies, or any kind of damage that may occur from the use of the information. The National Board of Social Services has no authority to endorse products and does not assess the quality of the products.
Hide this message
.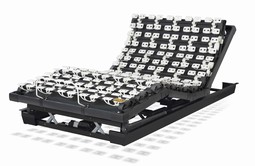 The Lattoflex bed programme are developed for persons with back pains. Patented Lattoflex wing spring system- Extra long spring arm adapt to the shape of the body in a unique fashion for fantastic comfort. The unique fiberglass double section adjusts idealasse.
Classification
18 12 10 33 - Detachable bed boards, 4-sectioned mattress support platform, electrically operated
The product series contains 1 product.
Product 1 of 1


Lattoflex 295

Top model in elevation. All features can be adjusted by the 5 quiet engines & the accompanying wireless remote control. Lifting the entire lower body for relief of the circuit. Adjust the neck, back, thighs & lower legs. The remote control has memory - thlasse.

Registration date

23-10-2013
Properties
Ingress protection class for water
0
IP-klasse

0-9 (IPX0-IPX9) according to the standard for degrees of protection provided by enclosures (IEC 60529)

Intended for children
No

Products for children must comply with the specific demands for safety as stated in certain standards. It is the supplier of the product who has stated that the product is intended for children. The National Board of Social Services holds no responsibility in relation to this assessment.

Built-in bed extension
No
Intended for use in hospitals
No
Intended for use in a domestic area
Yes
Back rest section, electrical adjustment
Yes
Leg section, electrical adjustment
Yes
Upper leg section, electrical adjustment
Yes
Separate adjustment of back rest
Yes

Indicates whether the back rest can be adjusted independently of other parts of the mattress support platform

Combined adjustment of mattress support platform
Yes

Indicates whether backrest and knee bending are adjusted at the same time

Adjustable head support section
Yes
Measures
Outside measure length
200
cm
Outside measure width
100
cm
Mattress size, length
200
cm
Mattress size, width
100
cm
Load, max
120
kg

Maximum external load on the product that is permitted in normal use

User weight, max
120
kg
Weight of heaviest main part
70.9
kg

Weight without parts that are detachable without the use of tools