Dynamostol Incharge with armrest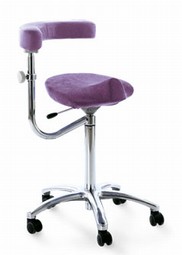 The purpose of the chair is to sit in shape and prevent pain in the neck, shoulders and back.
Available with foot operated height adjustment (Clinical) or footrest, Flex seat, and wheels with load brake.
Cover in imitation leather, microfibre and wool.
Classification
18 09 07 - 01
Standing chairs
The product series contains 2 products.
Product 1 of 2


Dynamostol Incharge with armrest

Registration date

24-11-2013

Specifications
Intended for children
No

Products for children must comply with the specific demands for safety as stated in certain standards. It is the supplier of the product who has stated that the product is intended for children. The National Board of Social Services holds no responsibility in relation to this assessment.

User weight, max
120
kg
Seat height, min
48
cm

The vertical distance between the floor and the seat surface measured at the centre point of the seat. Measured with the seat as close as possible to the horizontal and the seat in the lowest position.

Seat height, max
68
cm

The vertical distance between the floor and the seat surface measured at the centre point of the seat. Measured with the seat as close as possible to the horizontal and the seat in the highest position.

Wheel(s)
Yes
Seat in different sizes
No
Breaks
No
Product 2 of 2


Dynamostol Incharge with armrest

Available with foot operated height adjustment (Clinical), Flex seat and feeding. 5 different heights and various types of seat covers and colors.

Registration date

01-12-2013

Specifications
Intended for children
No

Products for children must comply with the specific demands for safety as stated in certain standards. It is the supplier of the product who has stated that the product is intended for children. The National Board of Social Services holds no responsibility in relation to this assessment.

User weight, max
120
kg
Seat height, min
55
cm

The vertical distance between the floor and the seat surface measured at the centre point of the seat. Measured with the seat as close as possible to the horizontal and the seat in the lowest position.

Seat height, max
80
cm

The vertical distance between the floor and the seat surface measured at the centre point of the seat. Measured with the seat as close as possible to the horizontal and the seat in the highest position.

Wheel(s)
Yes
Seat in different sizes
No
Breaks
No