All product information is provided by the supplier. The National Board of Social Services is not responsible for either contents, origin, flaws and deficiencies, or any kind of damage that may occur from the use of the information. The National Board of Social Services has no authority to endorse products and does not assess the quality of the products.
Hide this message
.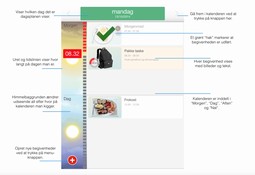 MemoAssist is a tool that is intended for people who suffer from ADHD, Alzheimers, Aspergers, autism, dementia, or brain damage. MemoAssist is very easy to use. It uses both images and sounds to remind you of your to-do items. MemoAssist can be controlled remotely by family members.
Classification
22 27 15 01 - Calendar and timetable software
Video
Play video
The product series contains 1 product.
Product 1 of 1


MemoAssist

Registration date

25-06-2014