All product information is provided by the supplier. The National Board of Social Services is not responsible for either contents, origin, flaws and deficiencies, or any kind of damage that may occur from the use of the information. The National Board of Social Services has no authority to endorse products and does not assess the quality of the products.
Hide this message
.
Mobilux Digital Touch HD, 4-15x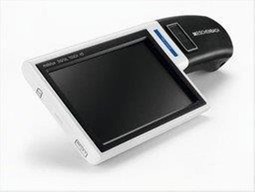 New Electronic magnifier with touch screen, HD Camera og plug in for computer. 230 g weight. User friendly handling. Can be used on an angle for writing. Hd quaklity images can be stores on SD Card and transfered to computer. Switch off after 2,5 - 3 miniutes. recharging approx. 2 hours
Classification
22 03 18 07 - Handheld video magnifiers with an integrated monitor (CCTV)
The product series contains 1 product.
Product 1 of 1


Mobilux Digital Touch HD, 4-15x

Registration date

14-08-2014

Properties

Mains supply connection

Yes

Measures

Apparatus lenght

21

cm
The longest measure
Monitor size
4.3
"
Diagonal measure
Test information
No information about tests according to standards
CE-marking
The supplier has provided the following information about CE-marking of the product.
Explain CE-marking
Medical Device Regulation (MDR) - 2017/745/EU