All product information is provided by the supplier. The National Board of Social Services is not responsible for either contents, origin, flaws and deficiencies, or any kind of damage that may occur from the use of the information. The National Board of Social Services has no authority to endorse products and does not assess the quality of the products.
Hide this message
.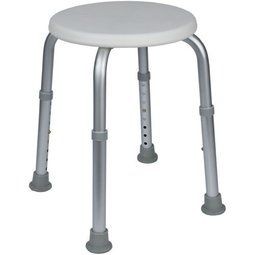 Small shower chair with a circular seat in white plastic. The diameter of the seat is 33 cm. The chair legs is made of grey aluminium, and is height adjustable from 40 to 50 centimeters. The height is changed with a simple lock on each leg. The legs has non-slip ferrules. The chair is assembled at delivery.
Classification
09 33 07 01 - Shower stools without optional back support
Video
Play video
The product series contains 1 product.
Product 1 of 1


Shower chair, circular

Registration date

19-03-2015

Properties

Intended for children

No
Products for children must comply with the specific demands for safety as stated in certain standards. It is the supplier of the product who has stated that the product is intended for children. The National Board of Social Services holds no responsibility in relation to this assessment.
Measures
Test information
EN 12182:1999: Technical aids for disabled persons - General requirements and test methods.
Test lab: Polish Centre for Testing and Certification. Test date: 15-12-2010
Test report for HMI-no. 47722
CE-marking
No information about CE-marking
The supplier has not provided any information about CE-marking of the product.
Explain CE-marking