Soft-Cell Incontinence stretchcover f. fullbodymattressTop, H.20-25cm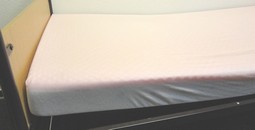 Soft-Cell Incontinence cover w. open backside for mattress top feels like SILK. Can be used directly towards the skin,is strong,elastic, breathable and absorbs more moisture than cotton. Washable in machine. By 60 C at least 100 times. By 95 C at least 20 times. Tumble dry up to 70 C. Öko Tex Class I product for baby. Ignition test EN 597-1.
Classification
18 12 15 - 12
Bed linen
The product series contains 3 products.
Product 1 of 3


Soft-Cell Incontinence stretchcover f. fullbodymattressTop, H.20-25cm

200 x 80 x 20/25 cm high

Soft-Cell Incontinence cover as a stretch sheet fits most fullbody mattresses with an overlay on top - height 20-25 cm

Registration date

14-04-2016

Specifications
Intended for children
Yes

Products for children must comply with the specific demands for safety as stated in certain standards. It is the supplier of the product who has stated that the product is intended for children. The National Board of Social Services holds no responsibility in relation to this assessment.

Water resistant
Yes
Flame resistant
Yes
Width
80
cm
Length
200
cm
Product 2 of 3


Soft-Cell Incontinence stretchcover f. fullbodymattressTop, H.20-25cm

200 x 85 x 20/25cm

Soft-Cell Incontinence cover as a stretch sheet fits most fullbody mattresses with an overlay on top - height 20-25 cm

Article-no.

10.22TEN.20085MW

Registration date

14-04-2016

Specifications
Intended for children
Yes

Products for children must comply with the specific demands for safety as stated in certain standards. It is the supplier of the product who has stated that the product is intended for children. The National Board of Social Services holds no responsibility in relation to this assessment.

Water resistant
Yes
Flame resistant
Yes
Width
85
cm
Length
200
cm
Product 3 of 3


Soft-Cell Incontinence stretchcover f. fullbodymattressTop, H.20-25cm

200 x 90 x 20/25cm

Soft-Cell Incontinence cover as a stretch sheet fits most fullbody mattresses with an overlay on top - height 20-25 cm

Registration date

14-04-2016

Specifications
Intended for children
Yes

Products for children must comply with the specific demands for safety as stated in certain standards. It is the supplier of the product who has stated that the product is intended for children. The National Board of Social Services holds no responsibility in relation to this assessment.

Water resistant
Yes
Flame resistant
Yes
Width
90
cm
Length
200
cm